Contact us:
Metro Detroit  office 313.582.1023  call-in line 313.769.6666
Windsor/Essex  office 519.252.1023 call-in line 519.256.1023  Fax  226.773.0155  sales.cinaradio@gmail.com
Personalities:
Administration and business unit: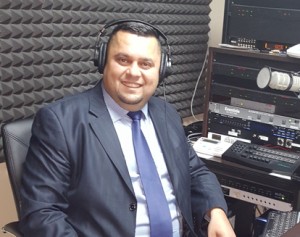 Ahmed Alobaydi, Senior Account Executive, expert show co-host, Metro Detroit  ahmed.cinaradio@gmail.com 313.663.0010
Henry Ford, Account Executive, Metro Detroit   henry.cinaradio@gmail.com 313.582.1023
Kelly White, Office Manager and Business Development, Metro Detroit,  kelly.cinaradio@gmail.com 313.582.1023
Nadira Hawil, Account Executive Windsor/Essex, host of Assyrian music program Sundays at 7pm nadira.cinaradio@gmail.com. 519.252.1023
Erin Pervin, Operations and Administrative Assistant (commercial scheduling) Detroit, Windsor and Montreal  erin.cinaradio@gmail.com
Rana Haddad, Music Director rana.cinaradio@gmail.com
Audio operators: Moe El-Masri, Brad Kersey and Tiffany Briden
Ownership: 102.3 FM CINA Radio is owned by Neeti P Ray, who also owns 2 other radio stations:
CINA-AM, the first radio station in Canada licensed to serve the Indo-Pakistani community. CINA-AM covers the Greater Toronto Area  and has been an exceptionally successful radio station since it went on-air in 2008.
CKIN-FM, a Montreal radio station that focuses primarily on Arabic programming and also includes 11 other languages. CKIN-FM is known as Radio CINA Montréal.
Mr. Ray began his distinguished radio career in 1980 in Edmonton, Alberta. He started Radio India in Toronto in 1990 and applied for his own broadcast license when the owners of the station hosting Radio India decided not to continue with ethnic programming.
102.3 FM CINA Radio is Mr. Ray's second broadcast license. Mr. Ray's commitment to multicultural broadcasting is the reason the Windsor-Detroit area is served by a full-time ethnic station on the FM band. To best meet the demographic breakdown of the Windsor-Detroit area, 102.3 FM CINA Radio has focused primarily on Arabic speaking audiences. It also airs programming in at least 11 other languages.
Want access to Toronto's multicultural communities?  Contact CINA-AM 1650  www.cinaradio.com   info@cinaradio.com  416.777.1650
For Montreal's Arabic communities and 7 other ethnic groups, contact Radio CINA Montreál 106.3 FM www.radiocina.ca  info@radiocina.ca   514.510.1063.